Your Colorado Home Mortgage Experts!
Take Advantage of today's Low Rates!
Colorado consistently ranks as one of the top places to live in the United States, citing its quality of life as being the most attractive appeal to residents. If you've dreamed of owning your own home in Colorado, BancSource Mortgage is the company to help make your dreams come true. We offer a full range of home mortgage loans and will find a custom Colorado mortgage that fits your needs and financial situation.
We are a locally owned and operated company that has been serving Colorado since 1995. We will walk you through the many varieties of home mortgage loans and put you at ease every step of the home mortgage process. BancSource's experts will explain the pros and cons of each mortgage option available,  taking into account your individual goals and needs.
Contact BancSource today at 303-394-2222 for a free consultation.
OUR MORTGAGE PROGRAMS


Fixed Rate Mortgages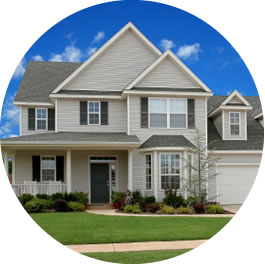 The most common mortgage programs involve fixed rated loans, which lock in the rate of interest to be paid on the loan so that your monthly payments (interest and principal) never change over time. Property taxes and homeowners insurance may fluctuate, but your monthly payments remain stable. Fixed rate loans have two distinct features:
1) The interest rate remains fixed for the life of the loan.
2) The payments remain level for the life of the loan and are structured to repay the loan at the end of the loan term.
The most common fixed rate loans are 15- and 30-year mortgages. There are also "biweekly" payment programs that can reduce the life of the loan by calling for half the monthly payment every two weeks. (Since there are 52 weeks in a year, you make 26 payments, or 13 "months" worth, every year.)

Adjustable Rate Mortgages (ARMs)
Adjustable-rate loans can offer attractive initial interest rates. The initial rate is fixed for a certain period of time; 1, 3, 5, 7 or even 10 years. After the initial period most loans will adjust annually. There are a variety of reasons an adjustable rate loan may be right for you. Please contact us to go over your situation and see if an arm fits your needs.

Gift Funds
First time homebuyers may have the income and credit stability to qualify for home mortgages; however, they may not have the necessary funds for the down payments and/or closing costs. Gift funds are available through varies different ways. Family members may gift the down payment and closing costs as well as obtaining various down payment assistance through qualified programs. Please contact us for more information.
Contact Us Today!
Contact BancSource today at 303-394-2222 for a free consultation to discuss any of the mortgage programs we offer.